Las Cruces, New Mexico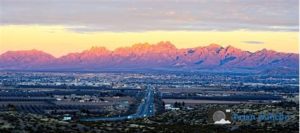 Outdoor adventure. Unique culinary experiences. Vibrant culture. From national parks and monuments to one of the top-rated farmer's markets in the country, Las Cruces offers so many reasons to explore this great city. So be enchanted by southern New Mexico!
Las Cruces is the seat of Doña Ana County, New Mexico, United States. As of the 2010 census the population was 97,618, and in 2015 the estimated population was 101,643, making it the second largest city in the state after Albuquerque. Las Cruces is the largest city in both Doña Ana County and southern New Mexico. The Las Cruces metropolitan area had an estimated population of 213,676 in 2014. It is the principal city of a metropolitan statistical area which encompasses all of Doña Ana County and is part of the larger El Paso / Las Cruces combined statistical area. Visit Las Cruces info page HERE!