Buying a New Construction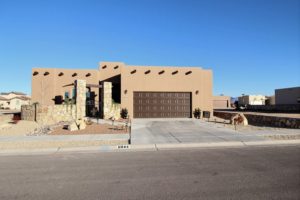 If you are considering buying a new construction, congratulations! There is nothing like living in a home you have either had the opportunity to make completely your own through customization, or living in a home that you make yours as you see fit. There are several new construction developments in Doña Ana County and a number of builders who are working in those developments (see "Home Builders in Las Cruces" tab). However, there are also few smaller builders in the area who can:
Build a completely custom home on your own lot,
Customize a home they have either already planned for or are building on a lot they have purchase, or
Remodel a dated home you are considering purchasing.
If you are considering buying a new construction, I recommend having an expert in new construction at your side. That way you can find the perfect lot and home no matter the development or builder. Having a strong advocate also means he/she can put you in touch with lenders who specialize in new construction loans and can get you the financing that best fits your financial situation.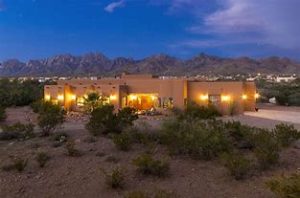 Custom Homes: The term "custom" refers to a home that is built for an individual. The construction of the house targets particular specifications from the floor plan to finishes including master suites or a multi-generational solution, specialty kitchens, green technologies, a special home office, selection of colors and materials, countertop, carpet, wall finishes, fixtures and other items included in the final products. A custom home is a great solution for those people who have custom needs and want to participate in the construction process and see the daily progress. The client may have a lot already purchased and then hires a builder to build a home on the lot, or the builder may own the lot and already have started the construction on it and it happens to be the perfect fit for you. If you start from ground zero, make sure you purchase within your budget as it doesn't take much to go over budget. You also must have confidence in your builder and trust his expertise in the field of new construction. In other words, "Know your builder".
pros – The buyer will have input into the design and the material buying process. The final price of the home is made up of the costs of its various components, resulting in better control of the bottom-line.
cons – The timing can be affected as you never know how long it will take to build a home. If you don't like the products when it is installed – you won't have a lot of choice but to accept it unless you want to pay the extra money and have it changed. This process can be very overwhelming and stressful for both buyer and builder.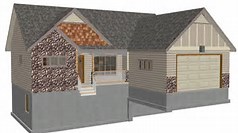 Spec Homes: "Spec" is short for "speculative home" trying to create a home that will appeal to the broadest market possible. It is a home that is built on speculation. Some builders employ this strategy where they build a home without a specific end buyer. They may go on the market when completed or partially completed. If you are a buyer considering a spec home, know that it may be possible to customize some elements of the design or finishes depending on how far into the build the builder is at that time. For example, you may be able to choose your own cabinetry, countertops, and finishes if the builder has not already contracted these products. However, changes to the floor plan, footprint, or elevation may be more complicated, costly, or not possible. These homes are often fully completed; however, it is possible to find a spec home still under construction. Depending on the price range of the home, builders will usually make their best effort to build what they think will sell easily. An experienced builder will know what people like. Other terms for this kind of home are move-in ready homes, immediate delivery homes, inventory homes, and featured homes.
pros – Spec homes are usually a fairly safe investment. They will usually be well done, balanced in terms of amenities and upgrades, built in promising neighborhoods, and marketable. Buyers can save money because they see exactly what their money is buying. It also gives buyers the opportunity to walk through the home and make changes if not fully built.
cons – A spec home is not the right choice for those who want to choose every single detail of their new home. It also is someone else's idea – not always yours. The ideal situation in buying a spec home is finding a new development in the early stage of the construction to assure some customization of your taste in colors, products, finishes, etc.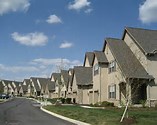 Tract Homes: "Tract housing is a type of housing development in which multiple similar homes are built on a tract of land which is subdivided into individual small lots." A tract also known as cookie-cutter housing is a development that includes homes with similar elevations, floor plans, and footprint and is often built by the same builder. Because these homes are so similar, they are usually a lot cheaper for the builder to build which is reflected in the price. Volume building makes it possible for the builder to purchase materials and contract for labor at a much lower rate than conventional home building methods. Early tract homes were often identical, however, since the late 20th century tract homes have several designs and other variations in footprint, roof form and materials, along with other options such as garage bays for a diverse appearance.
pros – The lower price is the obvious leader in this category. The floor plan is likely to be appealing to a mass market. The buyer also usually know what type of house will be built next door, and the sub-division will probably build out quickly. Tract homes meet the needs of a lot of buyers, especially first-time homebuyers.
cons – Because of the low price point, the quality can be a problem. Elements like cabinets, hardware and appliances are the most obvious areas where money may have been saved, often at the expense of quality. Other areas might include framing components, paint grade, shingle weight, and carpet grade. These components are not obvious to the typical buyer, especially someone not familiar with construction methods, materials, products and finishes. Lastly, resale value is the greatest disadvantage to a tract home. There is enormous competition when selling a tract home.
If you want to learn more about building your custom or semi-custom home, give me a call (or text) at 575.520.5039, or email [email protected].