Closing for Sellers!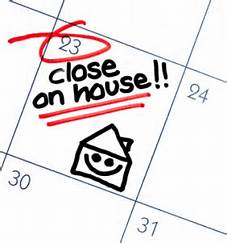 Legal Closing is interpreted as: "Conveyance of title from seller to buyer and the proceeds dispersed to the seller". In New Mexico State, closing is considered the day that the deed is recorded in the buyers' names and the proceeds are paid to the seller. When they can take legal possession of the property depends upon the terms or conditions of the contract.
Different states handle closing procedures in different ways. In New Mexico, buyers and sellers sign at separate times, typically the same day of closing date. Closings are predominately handled by escrow companies. 
Prior to signing, the escrow company will set an appointment with you to come in and sign documents. It can be done at their office or your home. Escrow officer will give sellers the total amount of funds they will receive, and tell buyers how much it's due at closing. For sellers, these funds are usually dispersed in the form of a certified or cashier's check or can be wired to their designated bank. After signature, the closing officer (escrow) will then process the paperwork and send to the County Courthouse the appropriate documents. Once the courthouse has processed and assigned recording numbers, they will notify escrow who will place a call to all parties that the transaction has recorded.
As far as possession is concerned, this can get very vague and confusing when it really shouldn't be. Legal possession can only occur when the deed is recorded and funds disbursed. The gray area is what time of day is this going to occur. 9am? Noon? 2pm? To protect everyone's interest, this specification can be mentioned on the purchase and sale agreement. If nothing has been agreed upon, 9pm is the legal possession time.