Doña Ana, New Mexico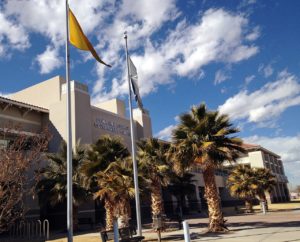 Doña Ana is an unincorporated community and census-designated place in Doña Ana County, New Mexico, in the United States. The population was 1,211 at the 2010 census.
Doña Ana County is a county located in the southern part of the State of New Mexico United States. As of the 2010 U.S. Census, its population was 209,233, which makes it the second-most populated county in New Mexico. Its county seat is Las Cruces, the second-most populous municipality in New Mexico. The county is named for Doña Ana Robledo, who died there in 1680 while fleeing the Pueblo Revolt. According to the U.S. Census Bureau, the county has a total area of 3,814 square miles (9,880 km2), of which 3,808 square miles (9,860 km2) is land and 6.9 square miles (18 km2) (0.2%) is covered by water.
The county contains a number of prominent geographical features, most notably the Mesilla Valley (the flood plain of the Rio Grande) going north to south through the center and the Organ Mountains along the county's eastern edge. Other mountain ranges in the county are the Robledo Mountains, Doña Ana Mountains, Sierra de las Uvas, the southern end of the San Andres Mountains, East Potrillo Mountains, and West Potrillo Mountains, as well as two small, isolated mountains, Tortugas (or A) Mountain on the east and Picacho Peak on the west side of Las Cruces. The county also includes one of New Mexico's four large lava fields, the Aden Malpais, and one of the world's largest maare volcanoes, Kilbourne Hole. Visit Doña Ana Info Page HERE!